WELCOME TO EQUIP PROMOTIONS!
PROMOTIONAL PRODUCTS WORK!
With the way the economy is going, it's no wonder that more and more companies are choosing to advertise their brands through promotional products. From corporate gifts, which are perfect for executives, to promotional pens that do exceedingly well at trade shows, these items are known to work. Promotional products, according to industry studies, are the most economical of all forms of promotions and advertising; they outdo print, radio and TV in terms of cost-effectiveness. What's so great about these products is that they offer so much longevity. They will live in the homes and offices of recipients for quite some time. This is great news for your business or organization, as the longer recipients hold onto their promotional products, the more exposure your brand will receive.
Featured Item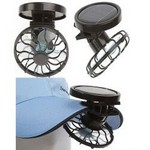 Mini Clip-On Solar Fan
This clip-on fan will help you to keep cool during the hot summer days. It is all solar powered, so you do not have to worry about dead batteries. It can stick to your cap or clip on your jeans. It is...
$3.34 - $3.47
Signature Showrooms